MINI HOCKEYCAMP
Learn Hockey Inside Out at the Mini Hockey Camp
At the Mini Hockey Camp, we guide children aged six to nine-years-old through the world of hockey and fun. This three-day camp takes place every Spring, Summer and Fall break. The program starts every day at nine o'clock and lasts until half-past five. Afterward, everybody goes to their own house to get a good night's sleep! That way, you can start each day well-rested. The Mini Hockey Camp is due to the training and tournament about hockey of course. However, we also know a thing or two about other fun games!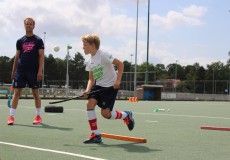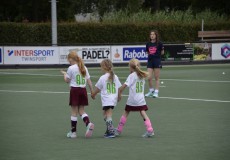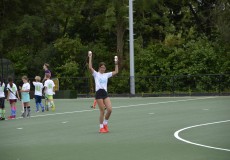 Hockey Clinic from a Hockey Hero
Aside from the training, you get an exclusive clinic from one of our Internationals. Learn from the hockey masters themselves! At the clinic, you'll get a unique behind-the-scenes view in the life of an International. They teach you cool tricks and techniques. Then it's time to take them into practice. Become a pro yourself with the tips of our Internationals!
Hockey and Fun
At Bovelander, we think hockey and fun are equally important. That's why we spend quite an amount of time to playing a variety of fun games. Our Bovelander trainers give a not-so-little creative tweak to each and every hockey camp. Each Mini Hockey Camp is unique due to their twists and turns! Oh, and what do you think of bouncy castles and dress-up parties?
We find it essential that young hockey players think back to their Mini Hockey Camp as being very fun and entertaining. Make lots of new friends and get to know a true International!
What Else Do You Get on Your Mini Hockey Camp?
- A cool Bovelander shirt;
- A Bovelander bottle you can take to your training sessions;
- A sports lunch, healthy bites and a warm snack;
- Three days of hockey!
Will you go to the Mini Hockey Camp during your holiday?