JUNIOR SLEEP CAMP
Junior Sleep Camp: Where Your Boldest Hockey Dreams Come True!
At the Junior Sleep Camp, you'll plunge in the world of hockey and ultimate camp vibes. The camp leaders take you on a hockey-adventure, where all your boldest hockey dreams come true! All hockey players in the junior category are more than welcome to join us. The four days of camp are in the spirit of hockey and lots of fun — games alternate training and vice visa. In the evenings we have some very exciting things in store for you! Afterward, you'll sleep in your tent with your closest friends.
Training, Tournament, and Tips
Hockey is what you ask for, and hockey is what you get. Practice is an essential aspect of the Bovelander Hockey Camps. Every day, we'll play a round of the challenging Bovelander Hockey League. On the last day, we play the finals. Our Internationals know like no one else to get their head in the game! Bovelander assembles Internationals since 1996. Throughout many years, that's a lot of professional hockey players. They make each and every camp special due to their unique experiences as true hockey masters.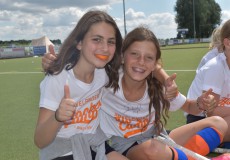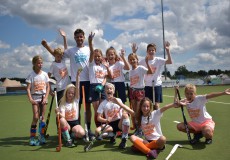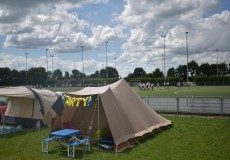 Day and Evening Program of the Junior Sleep Camp
At Bovelander we know that you play hockey in a strong team. Winning in a team that always has got your back is what makes hockey feel so great — both within the lines of the field and outside the lines. Together, we accept many challenges and challenge other hockey players. In doing so, we make a strong team! Each hockey camp we play lots of games to build up a great team spirit. Every camp is unique because the Bovelander trainers go to great lengths as far as their creativity with the games goes. The games vary from Expedition Robinson to Live Cluedo and an open mic night. Before you know it, your teammates are your new best friends!
What Else Do You Get on the Junior Sleep Camp?
Tasty and healthy meals;
Cool Bovelander shirt and -bottle;
Sleep with your best friends in your own tent!
Are you joining us on the Junior Sleep Camp in your holidays? Sign up now!