JUNIOR HOCKEY CAMP
Junior Hockey Camp: Join Us on a Hockey-Adventure!
The Junior Hockey Camp is all about hockey and fun. For three days, we'll challenge you with everything that has to do with hockey. Ten to twelve-year-old hockey players are more than welcome to join us on our hockey-adventure. The program starts at nine o'clock sharp in the morning and lasts until half past five in the evening. After that, everybody's dismissed to get in a good sleep at their own home.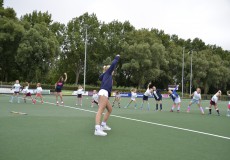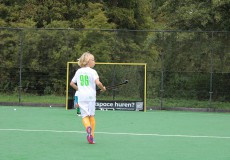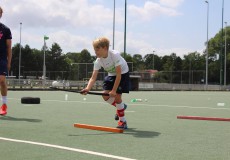 Program Junior Hockey Camp
We train three times a day. Each hockey training focuses on a different aspect of the technique. You learn to defend, pass and 3D-skills, the duel, team play and of course how to score like a champ! With the hockey challenges, we'll invite you to accept the challenge of the best scoop to keepy-uppy and many other things. Every day, we play one round of the Bovelander Hockey League. On the last day, we play the finals of the tournament. In short, all your boldest hockey dreams will come true!
Meet Our Internationals!
Each Bovelander Hockey Camp you'll get to know an International. They know their favorite sport inside out. Hockey is in their DNA. Our Internationals teach you cool techniques, tricks and give you tips on how to perform better on the field.
The Bovelander trainers have joined a Bovelander hockey camp themselves. They know the camp vibes and how to diffuse them among young hockey players. On average, the participants grade our trainers with an 8.8 on a scale of 1-10. Do we see you at our next hockey camp?
What Else Do You Get?
A cool Bovelander shirt and -bottle;
Sports lunch, healthy bites and a snack;
An opportunity to make friends and memories for life!
Are you just as excited as we are? Sign up now for the Junior Hockey Camp!