CLASSIC HOCKEY CAMP
Program
The Classic Hockey Camp is the perfect mix between hockey and fun for hockey players aged ten to sixteen. Warm up for the training sessions and chill out afterward during our social program. Fun is for everyone, both during hockey and after. At Bovelander, we find this mix very important.
Hockey program
At the Classic Hockey Camp, we train three times a day. Each training focuses on a different aspect of the hockey technique. That way, we provide an all-round hockey training, where you can focus on your assets as well as any shortcomings. Because we work in small teams, there is plenty of room for individual attention. The trainers help you play your best game.
Every day we play one round of the Bovelander Hockey League. On the last day, we play the finals! Are you and your team ready? Now is your time to shine. Ready, set, go!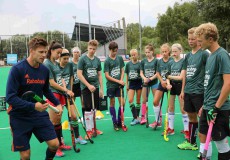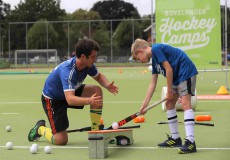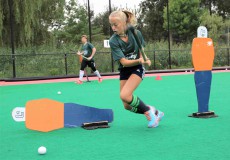 Hockey challenges
Practice your skills even more with the hockey challenges. We call them hockey challenges for a reason. Keepy-uppy as many times as you can. Or who is the best at aiming for the bar above the goal? First, we practice in small groups. Then, each group selects their group ambassador to challenge other group ambassadors. On the last day, we play the finals of the hockey challenges.
Social program
There is a thin line between playing a ball within the lines and having a ball outside the lines of the hockey field. Hockey is played best in a strong team. Bovelander schedules an elaborate social program for each camp. In doing so, you can make friends and get to know each other in no time! Because we're very close to the beach, you can build sand castles as well. We also do survival activities like climbing and abseiling, at which teambuilding exercises are crucial. Glow-in-the-dark hockey and the open mic night are part of our evening activities. Oh, and have we told about the beach party? The perfect occasion to show your inner Michael Jackson with some cool moves!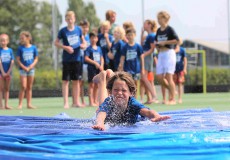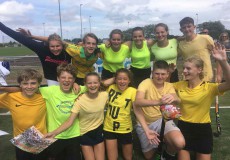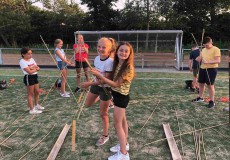 Program
Sunday

Monday

Tuesday

Wednesday

Thursday
Friday

Saturday

9.00

Breakfast

Breakfast

Breakfast

Breakfast

Breakfast

Breakfast

9.30

Training 2

Training 4

Training 5

Training 7

Training 9

Clean-up

12.15

Lunch

Lunch

Lunch

Lunch

Lunch

Lunch

13.00

Arrival
Beach games


Bovelander Hockey League

Finals

13.30

Introduction

Training 3




Training 6

Training 8

Training 10

Challenges

15.30

Training 1

Bovelander Hockey League

2

Bovelander Hockey League

4
Bovelander Hockey League 5

Bovelander Hockey League

6

Home

17.30

Free Hour

Free Hour

Free hour

Free Hour

Free hour

Running Survival

19.00

Dinner

Dinner

Dinner

Dinner

Dinner

Gala Dinner

20.00

Bovelander Hockey League

1

Challenge 2

Bovelander Hockey League

3

Challenge 4

Challenge 5

21.00

Challenge 1

Sociaal Programme

Challenge 3

Social Programme

Social Programme

Final Evening

22.00

Social Programme

Social Programme




23.00

Disco